What is Branding?
Branding is the process of creating a name, symbol, slogan, or other design that identifies and differentiates a product from its competitors.
A brand is a name, symbol, or other distinctive feature that identifies one seller's goods from those of others. Brands are used in business, marketing and advertising. The key to building a strong brand is to be consistent in the way it is portrayed across all channels.
The importance of branding is that it can help with customer recognition and loyalty. It can also help in the development of new products. A brand will give a company an identity and make them stand out in the market.
Brand management is the process by which organizations (e.g. companies, governments) manage their brands for strategic purposes and to promote market differentiation.
Brand management is a broad term that encompasses a variety of activities, including developing branding strategies and marketing strategies; designing the visual identity of brands; monitoring brand equity; conducting market research in order to better determine the demand for a brand; measuring their sales and marketing performance; and using social media to create awareness.
Why create a brand?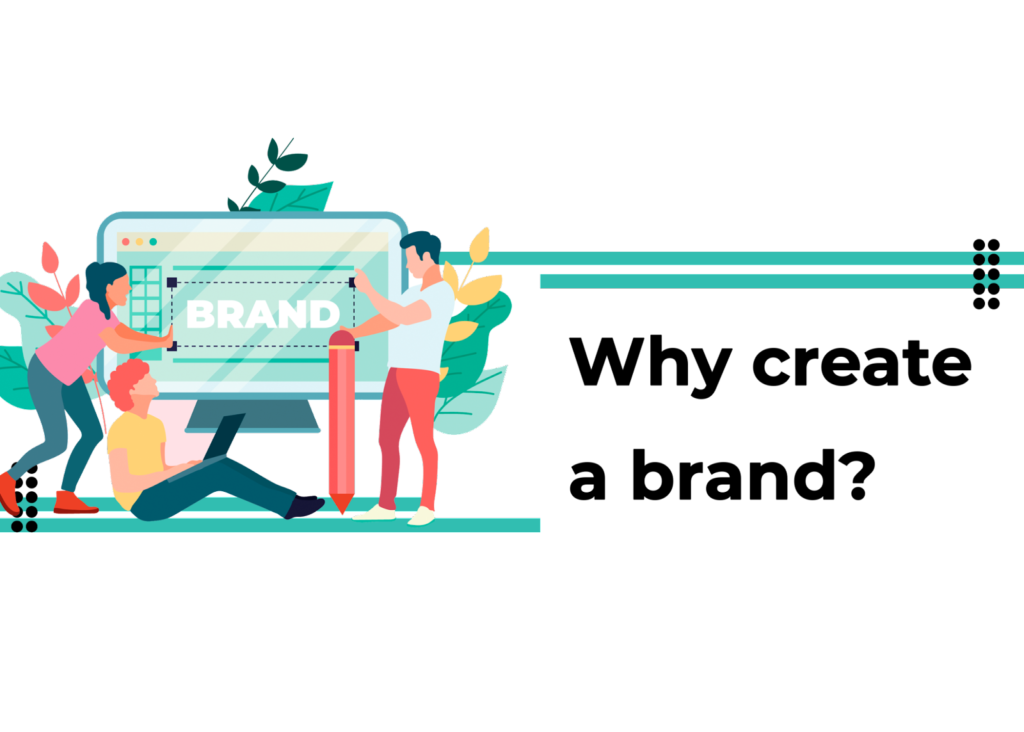 Branding is important for many reasons, but it's most important because it helps build customer loyalty and recognition for your company. This can be done through logos or slogans. For example, Nike has their famous "Just do it" slogan and Adidas has their three stripes logo to help identify them as two separate companies from each other.
A strong brand should have a clear logo and colour scheme to help customers recognize it. It should also have a distinct voice that is represented in all their content so that they don't confuse potential customers with different messages depending on where they find them.
Building your brand is not only about advertising, it is also the social aspect. It is important to be present and active in the social media world, as well as offline. .If you are using social media and advertising in your outreach, you should be present in the online world.
The goal is to make it feel like your brand is everywhere and not just limited to a single company. If people cannot find your marketing material on any other website or social platform besides Facebook, they will not be able to tell how big of a part of your marketing strategy it is. It may be of use to you to see what other websites and social media platforms your potential customers are using.
We should remember that people are more likely to buy from us if they know us and like us. The same goes for our brands too. If you want your brand to be bigger, more people should know who you are and what you do. If your business is a one-man show in a niche, it would be helpful to have the support of other companies that may compete directly with yours or those in a similar sector.
So, why does branding matter? There are several reasons:
1. Branding can help customers identify your product or company.
2. Branding can help customers remember your product or company.
3. Branding can create customer loyalty.
4. Branding can help you stand out from the competition.
The Features of a Brand
"…brands that use digital technology to communicate are better at maintaining long-term relationships with their customers because they have a way to keep up with their brand's mission" (Bawden, 2007).
To build a strong online brand identity, it is important to create a target audience and focus on the key values you want your company to represent. You must also regularly provide new content for your audience to keep them engaged and interested in what you have to offer .In order to build your brand, you must:.
Put yourself in your customers shoes and use customer feedback to shape what you do next.
Always keep your audience up to date with the latest news and happenings in your industry.
Be a member of at least one trade organization (a group of businesses that work together for mutual gain).
Be known in your industry as the go-to person.
Brand development is a highly strategic and important process that is often misunderstood. It is not just about creating a new logo or a new tagline.
Branding in digital marketing is the process of establishing a relationship with a specific target audience. It is a strategic exercise in which a business uses a set of logotypes, a visual identity, and a familiar brand voice to tell a specific story. This story is unique to the brand and helps to establish a brand personality. It communicates a sense of who your brand is, what it stands for, and what it can do for its audience.
Branding is a combination of two words: the recognition of a company's or brand's identity and the differentiation of the company or brand from its competitors.
It can also be defined as the building of a brand identity, which is a personal or company identity that is distinctive enough to be recognizable across a variety of mediums, including print, radio, television, the internet, and social media. Branding is the process of developing a general identity for a company so that it can be easily identified by consumers or in the media.
Branding Builds You
Branding builds Identity
The ability to be distinguishable from the rest is a priority of any business. To be recognized for the capacity of their products and services is the drive that pushes many to engage with their target audience. With millions of companies establishing their place in the market today, having a brand is the crucial factor that will help set a strong sense of presence.
Your branding, whether for your business or your personal interest, will be the set-piece that brings value to who you are or what your business is. Indefinitely, the more your network grows, the more your brand will be exposed. Therefore, having a powerful brand is the epitome of your identity.
Branding builds Connection
Branding is so important because it helps to build a connection between a company and its consumers. It creates an identity for a company that consumers can relate to, which helps to create trust and loyalty. When a consumer feels connected to a brand, they are more likely to return to it again and again.
Branding also helps to create consistency across all marketing materials. When a consumer sees a logo or slogan, they know they are interacting with the same company every time. This creates a level of familiarity that can help to increase sales.
In short, branding is essential for creating a connection between a company and its consumers. It helps to create trust, loyalty, and consistency, which can lead to increased sales and success for a business.
Branding Gives Purpose
Branding gives meaning
Branding is one of the most important aspects of any business, and it's something that should never be overlooked. It's what gives your company meaning and sets it apart from the competition. When done correctly, branding can communicate your company's values and vision to customers, helping to create a loyal following.
There are many features of branding that make it so powerful. Some of the most important ones are its ability to create a unique identity for your company, make you stand out from the crowd, and create loyalty among customers. Branding is also an effective way to build trust, which is essential for any business looking to succeed in the long term.

Branding gives new directions
When it comes to branding, one of the most important things to keep in mind is that it gives your company a direction. It provides customers with a way to connect with your company and helps them understand what it is you stand for. A strong brand will help you attract the right customers, and create an emotional connection with them that will keep them coming back for more.
Branding Drives Result
Branding drives Growth
Branding also drives growth by creating customers who are loyal to your brand. When people feel connected to your brand, they're more likely to buy from you again and recommend you to their friends. So, if you want to achieve success in your business, it is essential to invest in branding!

Branding drives Morale
Branding is more than just a name or a logo. It is the personality of your company, and it is what drives your employees to give their best. When everyone is on the same page, working towards the same goal, it creates a sense of morale and community that can't be beaten.
A strong brand inspires loyalty in customers and employees alike. It creates a sense of familiarity and trust that customers can rely on, and it gives employees something to be proud of. When your branding is solid, it unifies your team and gives you an edge over the competition

Don't Underestimate the Power of Good Branding!
Branding is important because it creates an identity for your company. It is what people think of when they hear your name, and it is what separates you from the competition. A strong brand will evoke positive emotions in your customers and encourage them to return.
There are many different aspects to branding, including your logo, tagline, and color palette. It is important to choose visuals and colors that represent your company accurately and make a good first impression.
Your branding should be consistent across all platforms, from your website to your social media accounts to your marketing materials. If it is not, you will confuse your customers and make it difficult for them to connect with your brand.
Conclusion: Want some help with your own branding?
The importance of branding is that it can help your company stand out from competitors. It may be important to have a strong brand if you want customers to recognize who you are. This can be done by making sure that your company has a unique selling point, and that you are able to provide something different from your competitors.
A good way to do this is by using branding tools such as logos and slogans. These tools can help you make sure that you are always promoting your brand in the best possible way.
Here are some digital tools to help you get started
Canva
WiseStamp
Signature Maker
Hipster Logo Generator
If you're looking to improve your branding, consider hiring a marketing team who can help you create a cohesive and effective identity for your business.