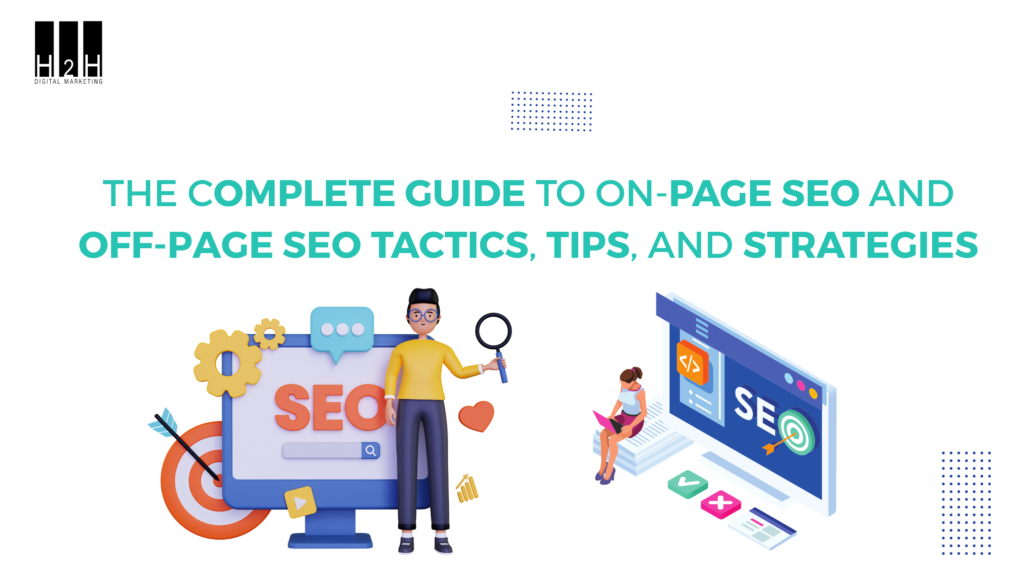 Introduction: Why is On-Page SEO Important?
On-page SEO is the process of incorporating high-quality content on web pages in order to improve search engine visibility. This includes titles, headers, and image alt text enhancement. It also entails ensuring that the site contains authoritative information, authority, and credibility. You can increase the credibility of your website by including external links. Only by being completely aware of your potential user intent will there be an adequate understanding of resolving issues and responding to search queries that are frequently requested by search engines. So why is it important?
On-page SEO supports browsers in assessing your online presence and the content associated with it in order to assess whether a searcher's query might be pertinent to your webpage. Google's algorithm is constantly being refined in order to better recognize a searcher's objective and convey search outcomes that satisfy that user's needs. A website should evolve in parallel with Google's algorithm. On-Page SEO is a constant process. It takes time to learn all about on-page SEO, but one must always stay ahead of the curve. There must be an understanding on how Google works, and how to use that information to improve a website. Here are some of the most important things to consider when optimizing a site.
It is pivotal that your site and its composition are streamlined to the latest practices used by companies such as Google and Bing, covering both what is accessible to visitors (i.e. media, content, images) and what appears viewable to search results (i.e. metadata, HTML). This allows search engines to acknowledge your webpage and evaluate how or when to rank it.
It is also critical to optimize a website's on-page SEO whether you have a large or small business. SEO is one of the most widely popular digital marketing campaigns, and it remains extremely popular due to its coherent return on investment. In fact, with its low cost and long-term benefits that can help websites develop and bring in passive traffic for years, on-page SEO provides the greatest ROI of nearly any digital marketing strategy.
This is the reason why on-page SEO is indispensable. Otherwise, the site may lose out on the chance to classify search queries related to your business. Besides an SEO strategy, competing companies may squeeze your own website into search results. This is a big reason why many businesses recruit a Seo firm: the society of search marketing has risen to depict a lot of profit. While going further through the blog we will learn all about on-page SEO and what is on-page SEO.
On-Page SEO Checklist – How to Optimize Your Content to Rank Higher in Google Searches
If you are unfamiliar with SEO, you must consider starting with the core concepts. To generate leads in search engine results, the web page framework must be streamlined both functionally and grammatically. Do you know how important on-page SEO is?
An enhanced page will be straightforward to locate on Search results and will keep your intended audience pleased after perusing it.
The essentials of achieving this are to maintain focus upon that searcher's list of questions (aka your primary keyword) and to make the page readable, scroll, comprehend, and publish. Google is fairly capable of comprehending worded texts and similar subjects within your webpage's text. However, there are still a number of methods for sending Google optimistic signals that help the search engine locate and recognize your material.
In addition to that, On-page SEO emphasizes the significance of independent web page content and HTML source code. A strong inbound link profile has a significant impact on the search engine rankings of your website. The on-page SEO checklist, on the other hand, is the cornerstone of your SEO strategy.
To understand how to optimize content for google search rankings using on-page SEO, we must first understand how search engines work. To find new web pages on the internet, search engines use programs known as web crawlers or spiders. These web pages are stored in databases known as indexes. When a user enters a search query, web crawlers look through the indexes to see which web pages are relevant.
The main benefit of on-page SEO is that it allows you to communicate important information about your website to search engines. When web pages are optimized for relevant keywords, web crawlers can more easily determine what the page is about.
On-page SEO is influenced by a variety of factors, including target keywords and content quality. It is equally dependent on your website's architecture and the overall user experience it provides.
The guidelines to a successfully optimized website are:
Conduct Extensive Keyword Research
The first step is to identify and choose the keywords for which you want to rank. These are the terms and phrases that your target audience is likely to search for.
Keyword research and selection necessitate a thorough understanding of your target audience and where they are in the buying process. To conduct keyword research, you can use Google Keyword Planner or third-party keyword tools.
Once you've recognized your keyword searches, you should evaluate them to see if they're worth consideration at all.
Furthermore, you should take into account all voice search terms that your prospective customers may use. These questions are typically longer and more conversational in nature. They are mostly found in question forms.
Choosing one of your target keywords and undertaking a quick Google search with it. Then investigating the first few search results can contribute to seeing how they use keywords in their content, titles, URLs, and so on.
Analyzing their content can help find questions/topics about keywords intended that aren't covered by the top search results. Taking these problems into account increases your chances of outranking your competitors and achieving a higher search engine ranking.
Make Use of Appropriate Title Tags
Your web pages must have appropriate titles that communicate what they are about. Title tags are used by search engine bots to determine the relevance of a web page to a search query.
As a result, it is advised that you include your keywords in the title tags of your web pages.
Moz, for example, creates excellent title tags. Each tag is displayed completely, with the focus keyword at the very beginning. It must also be made to ensure that the keywords are naturally incorporated into the title.
Title tags are usually restricted to a certain number of characters (usually between 50 and 60). Every attempt should be made not to exceed this limit; otherwise, the rest of the characters may not be available from the search results
Create a Captivating Meta Description
The meta description is a critical part of your on-page SEO checklist. It is the content snippet that emerges below the page title in search results pages.
It is employed by browsers to determine the topic of a web page. As a result, your web pages must have concise meta descriptions that organically incorporate relevant keywords.
Furthermore, a well-written meta description improves your click-through rate. Writing it in a way that encourages the searcher to click should be in mind. Your meta description can help drive organic website traffic while also improving your search engine rankings.
To avoid having the meta description cut off in search results, keep the number of characters to a minimum. For example, Google limits meta descriptions to 150-170 characters. Some content platforms go even further in limiting it.
Make Use of Descriptive URLs
it is disclosed that the leading search engine prefers URLs with 3 – 5 words. URLs is preferred to be simple and straightforward. Removing unnecessary articles (the, a, an) and prepositions (with, over, to) that do not change the meaning of your title can be adopted.
Furthermore, it should accurately describe what the web page is about. It should also be made certain that the focus keyword appears in the URL of a web page.
Add Appropriate Modifiers
Modifiers are words such as "best," "top," "review," "tutorial," and so on that are used to generate long-tail variations of your target keyword.
Undertaking a Google search for targeted keywords and looking for relevant additives in the "searches related to" category. Appropriate modifiers in your page title, H1 tags, meta description, and content are advised.
Modifiers allow search engine bots to gain a better understanding of your website. Furthermore, it allows you to test different keyword variations in your page titles and content. It also aids in the optimization of your website for voice search queries.]
Lonely Planet regularly employs the terms "Top" and "Best" in their articles to assist Google to understand the content of their articles.
A strong on-page SEO checklist is essential for website owners. It serves as the foundation for your SEO strategy and assists your website in climbing the SERPs ladder. The most important aspects of on-page SEO are relevant keywords and high-quality content.
Off-Page SEO Strategies & Tactics That You Can Use Today
Off-page SEO entails actions taken outside of your website's direct control in order to improve your search ranking. Getting other websites to link to your page is one example, as is guest posting for backlinks, encouraging social shares, and increasing domain authority.
While your team possesses less ability to influence off-page SEO than it does to effectively optimize your own pages, there are still many steps you can take to improve off-page SEO.
What are the most effective off-site optimization methods and techniques, according to marketers? Aside from the traditional backlink-building strategy, what underutilized off-page optimization strategies do marketers find most beneficial?
What marketing techniques did marketers rate the highest?
Constructing heavily shareable content was classed as the most efficacious. This makes sense since you require blog posts to build those crucial backlinks.
In actuality, the most common and broadly utilized off-page SEO approach, consciously establishing backlinks.
Devoting to expert roundups – like the one you're reading! This is a great way to demonstrate authority with a quick submission (less effort than a guest post) and gain backlinks.
Although controversial, guest posting, this strategy takes a lot of time, but it gives you complete control over backlinks and the keywords with which they are affiliated.
Off-page SEO strategies are frequently overshadowed.
Upon gazing at some of the most efficient and widely used off-page SEO strategies, what off-page optimization techniques do marketers believe are effective but often overlooked?
1. Create content that is easily shared.
Producing high-quality level of infographics, free download files, and so on harvests excellent off-page results. Presently, dynamic content is currently the most effective link-building tool.
2. Develop relationships in order to obtain backlinks.
Developing connections with specialized influencers. SEO marketers are obsessed with the latest techniques, forgetting that at the end of the day, people decide whether those tactics will succeed or fail. When you have strong relationships with influencers, they will gladly link to your content, promote your posts, invite you to guest post on their podcasts, and more.
3. Pay attention to the relevance of backlinks.
Focusing on finding relevant connections will help you build a strong reputation, which will enhance publicity and off-page SEO.
4. Strive for a well-rounded backlink profile.
In order to create a well-rounded backlink portfolio, link building should be a customized method that includes a combination of local, regional, and national outreach. Other marketers or small businesses will commonly concentrate on only one type of link-building.
5. Don't overlook guest posts.
Many content marketers underestimate the significance of guest posting, owing to the time and energy it takes to write a high-quality guest post. While it is time-consuming, there is no denying the importance of generating quality backlinks.
After having understood what makes sense from marketers, you're ready to refine and enlarge your off-page SEO strategy. Choose any of the above-mentioned tactics that you believe will work well for your company and experiment to see what works best. It may take some time, but once you get it right, the investment in off-page SEO will be well worth it.
Conclusion: The Future of On-Page & Off-Page Optimization in the Digital Age
On-page and off-page optimization are part of the most frequently used terms in search engine optimization. Both are critical to the success of an online business. Though the world of SEO has forever changed with the evolution of social media, it is critical for online businesses to understand the importance of these two processes in order to receive organic traffic from search engines.
There is no perfect blend of the two, so you'll have to experiment to see what works best for your website. Both on-page and off-page SEO add value to your top-ranking potential, and marketers should focus on both to ensure they are covering all of their SEO bases.
A new data revolution is sweeping across the industry at such a rapid pace that many SEO and digital marketers are struggling to make sense of the insights and intelligence at their disposal.
To take advantage of this opportunity, marketers must change their mindsets and use technology to analyze multiple data formats and understand the new opportunities they can bring.
Today's SEO marketers and digital marketers will need to extract, structure, and manipulate data quickly in order to drive the most critical business outcomes. Data has always been critical to making digital decisions.
SEO's future is once again tied to data and the development of intelligent systems. Marketers can use combined data sources to structure data for them here.
As a result, they can meet business objectives and stay ahead of the competition throughout all stages of data and digital transformation.