Introduction: Why You Shouldn't Think of Digital Marketing as a One-stop Shop
Although the term "marketing" traces back to the nineteenth century, marketing as we recognize it did not start until the 1950s. For many decades, marketing was done solely through print, including newspapers, magazines, flyers, and other written advertisements. It wasn't until radio and television became popular that marketing began to spread to other platforms, resulting in the 1950s advertising boom.
Marketing has evolved and grown into one of the world's largest industries over the years, with the internet and cell phones opening up new avenues for advertising. In today's world, it appears that you can't go anywhere or do anything without coming across an advertisement of some kind, whether you're driving, watching a video, or reading a news story online.
With rising competition and the prominence of the internet and smartphones, spending money on digital marketing is more important than ever. If you have the right marketing strategy, you can reach billions of potential customers online without spending a fortune.
Choosing the ideal marketing strategy as a business owner is vital if someone wants to get the most out of his marketing budget. The truth is that both digital and traditional marketing may have a place in a marketing strategy.
Traditional marketing still has a lot of advantages, especially for businesses with a lot of older or less tech-savvy customers. Customers who do not respond to digital marketing may respond to direct mail or television advertising, and some people may only hear advertisements on the radio. The marketing strategy that is best for your company is heavily influenced by the audience you wanted to seek.
Integrated marketing is the practice of combining digital and traditional marketing to achieve the same goal. This can be accomplished by using a consistent call to action throughout all of your marketing materials. A well-coordinated marketing strategy can assist in making your brand more distinct and identifiable.
If you want to get the most out of your marketing budget, you should probably use a mix of traditional and digital marketing. Diversifying your marketing efforts allows you to reach a larger audience and compare how different marketing tactics perform against one another.
The Pros of Traditional Marketing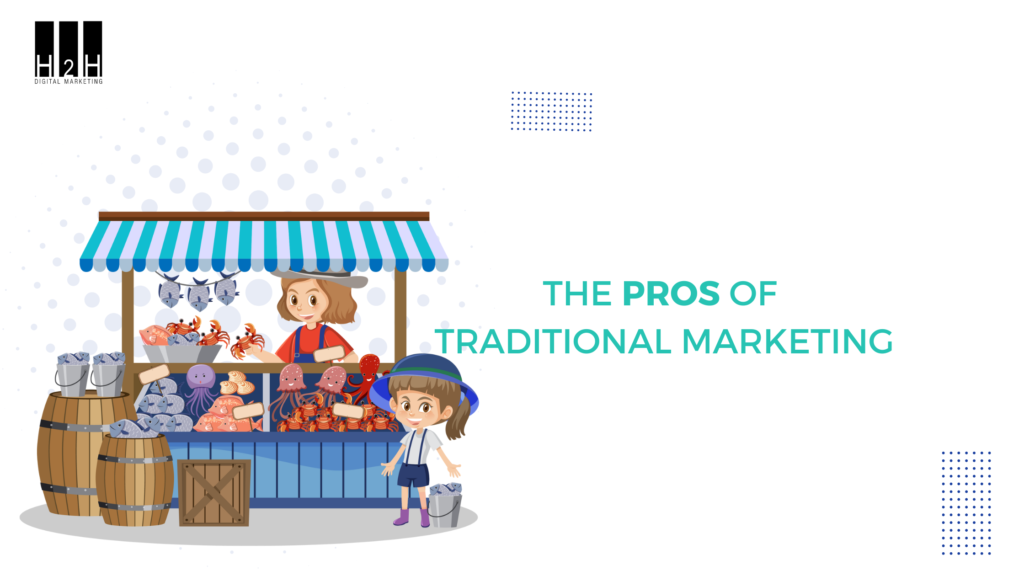 Despite the fact that some types of traditional marketing have been practiced for centuries, there are nonetheless upsides to implementing them into your modern strategy.
One of the most significant advantages of traditional marketing is that it allows you to have a presence almost everywhere. You can reach out to potential customers when they are currently doing their daily routines. This multimedia advertising allows you to reach as many people as possible, increasing your chances of converting leads to sales and increasing profits.
Traditional marketing can also be a more straightforward option if your team is unfamiliar with digital marketing and the tools that enable it. There is a lot to discover when it comes to perfecting marketing, so even if your team is committed to gaining knowledge in digital marketing, your online marketing campaign may take some time to find success. For some businesses, concentrating on traditional marketing may be a better financial decision.
It's also important to think about who you want to reach. Digital marketing is great for reaching a younger audience that uses smartphones and computers, but focusing too much on the digital side of things can alienate some of your target audience.
Traditional marketing may be more appropriate for a mature crowd, as well as target clients who do not spend a great deal of time on their computers or smartphones.
Because digital marketing is new territory for many businesses, traditional marketing may be a better bet. If users don't want to spend money making the switch to digital marketing or training their marketing team, folks might consider focusing on traditional marketing.
The Cons of Traditional Marketing
Traditional marketing has advantages, but that doesn't mean it is without downsides. There are various causes why digital marketing has overtaken traditional marketing, and weighing the benefits and drawbacks of each type of marketing can help you choose the best strategy for your company.
To begin with, traditional marketing is frequently more expensive than digital marketing. Traditional advertising spaces can be very expensive, especially if you're trying to land a commercial during a highly watched event or a billboard in a densely populated area of a large city.
Traditional marketing results are often more difficult to quantify than digital marketing results. You can count how many people clicked on a link or watched a video, but there's no guarantee that a viewer will see your television ad simply because they're watching TV. In fact, some viewers may be counted even if they fall asleep with the television on or leave the television on for their dog while they are at work.
Because of all the prospective red tape, your traditional marketing campaign may also take longer than a digital marketing campaign. There are risks associated with the promotion in print media and television advertising. It takes time to be approved and placed on billboards and television, and that time can cost money.
The Benefits of Digital Marketing
Connecting with the target audience in the right place, at the right time has always been the key to successful marketing. Presently, when consumer screen time is at a record-breaking peak, the best place to meet them is Online. Businesses all over the world are capitalizing on this reality. They are utilizing effective digital marketing strategies to ensure that their marketing efforts reach customers and result in significant commercial benefits.
1. Global Presence
Traditional marketing is geographically limited, and developing an international marketing campaign can be difficult, costly, and time-consuming. However, because digital marketing takes place on the Internet, the reach you can achieve with it is enormous. With an online store, even a small local business owner can reach an international audience. This would never be feasible with traditional marketing or would be extremely expensive. This online convenience has created numerous opportunities for business growth. Any company can benefit from the combination of global reach and visibility.
2. Local Coverage
While digital marketing has a significant advantage in terms of global reach, it also improves local visibility, which is especially important if your business relies on local customers. Local SEO and locally targeted ads can be beneficial for businesses looking to attract more customers. Consider the reach of digital marketing to a whole neighborhood versus the reach of printing out flyers and distributing them around.
3. Reduced Cost
If you still want to promote your company locally or globally, digital marketing offers cost-effective solutions. It enables even the smallest businesses to compete with larger corporations by employing highly targeted strategies. Most of these strategies will cost nothing, to begin with (such as SEO, social media, and content marketing). However, not every type of digital marketing is appropriate for every business, and some may even be more expensive than others. Based on its marketing objectives, a company can find appropriate solutions.
4. Simple to Understand
While there are many aspects of digital marketing to learn, getting started is relatively simple. The nature of the goals and the scale of the campaigns make it more complicated. However, it is all about determining the best strategy for your company.
5. Efficient Targeting
Even if you don't know who your target audience is, digital marketing allows you to extract data to determine which demographics will work best for you and optimize your campaign around them. There are numerous targeting options available, including keywords for search engine optimization (SEO), pay-per-click (PPC), and demographic information on social media. This vast array of targeting elements at your disposal ensures that every campaign reaches the intended audience. It also assists you in analyzing changing customer behaviors and adapting campaigns to those changes. Any company that can quickly understand its customers' changing needs will be successful.
6. Several Strategies
There are various digital marketing strategies that can be used by various types of businesses. A B2B company seeking international leads may employ a completely different strategy than a B2C local clothing store. While content marketing and SEO benefit some businesses more easily, conversion-based ad campaigns benefit others. The key is to always analyze the results and, over time, develop better tactics and methods. A well-executed digital marketing strategy is one that changes and adapts quickly as business needs change.
7. Increased Participation
Increased engagement is among the most valuable benefits of digital marketing. By default, digital marketing is intended to be highly engaging. Users can share a blog post, like a photo, save a video, or interact with your website by clicking on a paid ad. The best part is that all of these actions are trackable. This allows you to create even more engaging posts in order to increase brand awareness or sales. The more you engage with customers online, the more dedicated they will become. Businesses that effectively use engaging formats in their online strategies have a better chance of converting cold traffic to loyal customers.
8. Analytics & Optimization
Another significant benefit of digital marketing is web analytics, which measures the effectiveness of digital marketing campaigns in real-time. This helps to optimize future campaigns and quickly correct any errors. Analyzing your digital marketing campaigns also allows you to pinpoint every source of traffic and gain complete control over your sales funnels.
The Cons of Digital Marketing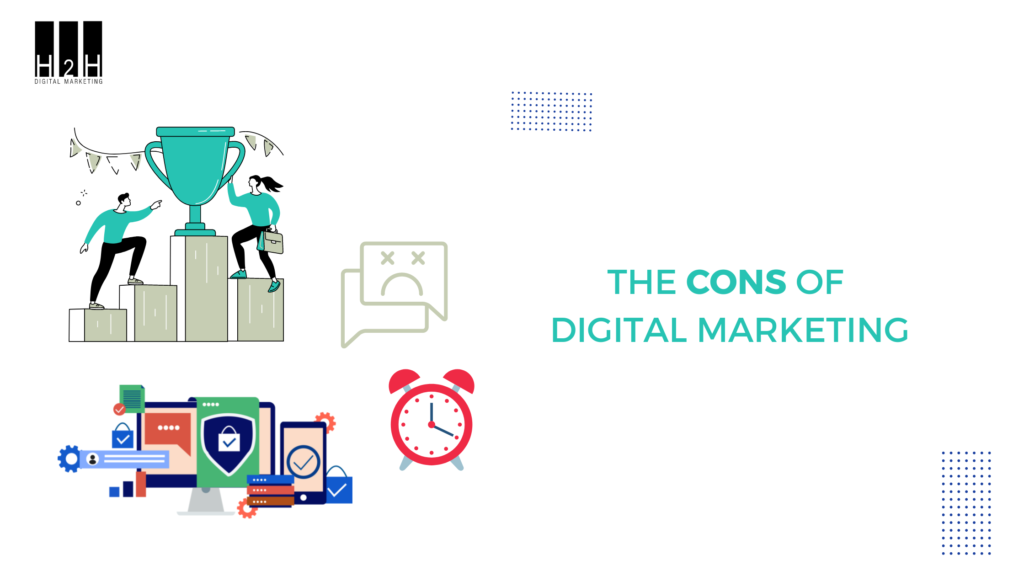 The negative impact brought about by digital marketing can affect a lot of factors including drawbacks to using social media for business promotion and disadvantages to PPC campaigns. In this blog post, we are going to number those characteristics.
Here are some disadvantages of digital marketing.
Digital marketing campaigns are notorious for taking a long time. A campaign may struggle to gain the attention it deserves as a result of ineffective techniques and strategies. Unfortunately, devoting the necessary time to a campaign is frequently difficult, resulting in poor results.
A flood of information and intense competition
The frequency with which you send messages to customers and prospects should be carefully considered. It is true that internet marketing allows you to reach a global audience, but it is also true that there are numerous messages directed at consumers online, making it difficult to stand out and be noticed.
There is far too much competition in digital marketing. Everyone on the planet is using digital marketing channels to advertise and promote their products and services. Getting clients' attention is extremely difficult. Methods quickly become obsolete, and responding to client needs should be done quickly.
Security and privacy concerns
Security is a top priority for all businesses. Even customers, for the most part, prefer traditional shopping to online shopping. Customers are unsure whether they can rely on online products. An organization must adhere to data protection and privacy standards.
Digital Marketing Requires Digital Competence
The person in charge of the campaign should be well-versed in a variety of digital marketing channels. It is not impossible to become digitally effective, but a successful digital marketer must have years of experience. Tools and trends change all the time, so it's critical to keep up.
Customer service is difficult to provide over the Internet. If a customer makes a derogatory comment, the entire audience will see it. It will have an impact on the promotion and credibility of the brand.
The internet is a place where your posts can quickly go viral.
There must be proper examination and caution before sharing your content on social networking platforms. Check it several times before uploading it to avoid receiving negative feedback and dealing with embarrassment. This is one of the many drawbacks to using social media for business promotion.
Even after investing the time to become proficient in PPC, the observable trends in potential customers show far fewer interactions with ads of any kind.
PPC marketers have had to deal with the fact that a greater proportion of users have begun to use ad-blocking software, just as traditional advertising agencies have struggled with the decline in printed ad revenue. While SEO services can be used to organically funnel traffic to web pages through page rank representation, the prevalence of ad-blocking software effectively locks out conversions that cannot be obtained through any PPC tweaking.
As things stand, the risk of losing money on paid ads may not be balanced with the benefits of success.