Introduction: What is Digital Marketing?
To define digital marketing is to understand any marketing tactic that helps make the use of electronic devices used by marketing specialists to deliver promotional messaging and continuously monitor its influence throughout the customer journey. When it comes to digital marketing, it encompasses various media channels and platforms that are available electronically. Internet content, digital advertising, search engine optimization, paid social media ads, and posts on social media are all examples. Digital marketing can be sometimes compared with traditional marketing strategies, i.e. magazine advertisements, billboards, and direct mail.
It's important to know that Digital Marketing differs from traditional marketing because of the digital reach. As it pertains to small businesses, Digital Marketing is often just called "online marketing," but at this stage, digital and traditional marketing are so intertwined it's hard to separate them. A lot of marketers now use the internet and other digital platforms to advertise their brands. This may include sending text messages or posting images on a social media platform, or distributing an email with a multimedia message.
What are the benefits of Digital Marketing?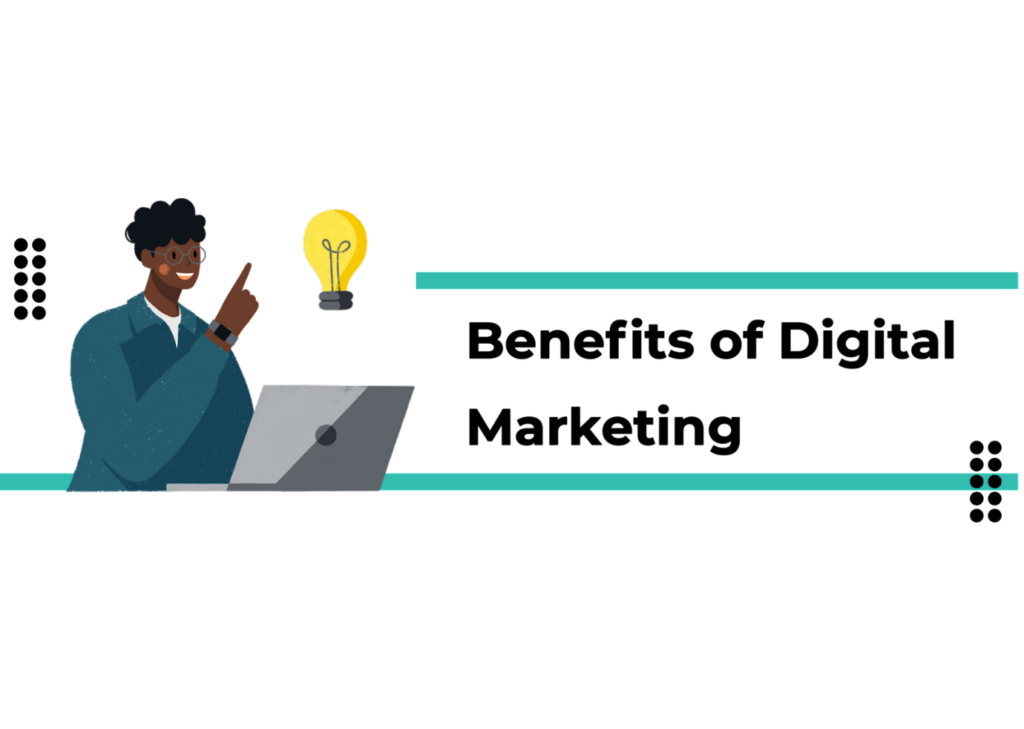 If you think Digital Marketing is not worth it, you might have to consider your judgment again.
Recently, Digital Marketing has emerged as an essential tool in promoting a business brand, as well as its products and services. Doing so, it also allows organizations of all sizes to develop a more personal relationship with their customers locally and around the globe if so fits the demographic of the company. Digital marketing allows businesses to deliver content to their consumers in a customized and cost-effective way.
That surge of Digital Marketing has only happened due to one trigger; the consumers.
Today, many consumers connect with their preferred business brands; their products and services, through the channels provided by the Digital Marketing team of the companies. Whether it is through the established digital presence or activities, digital marketing is becoming an important factor to consider if a company wants to boost its revenue whilst keeping up to date with what the people want; from the present trends to the future trends.
The tragedy here is that while many consumers and business owners are using digital marketing, there are still many small businesses that are yet to start. Our aim here is to show you how it can benefit you and your company if you choose Digital Marketing.
The myth to break on Digital Marketing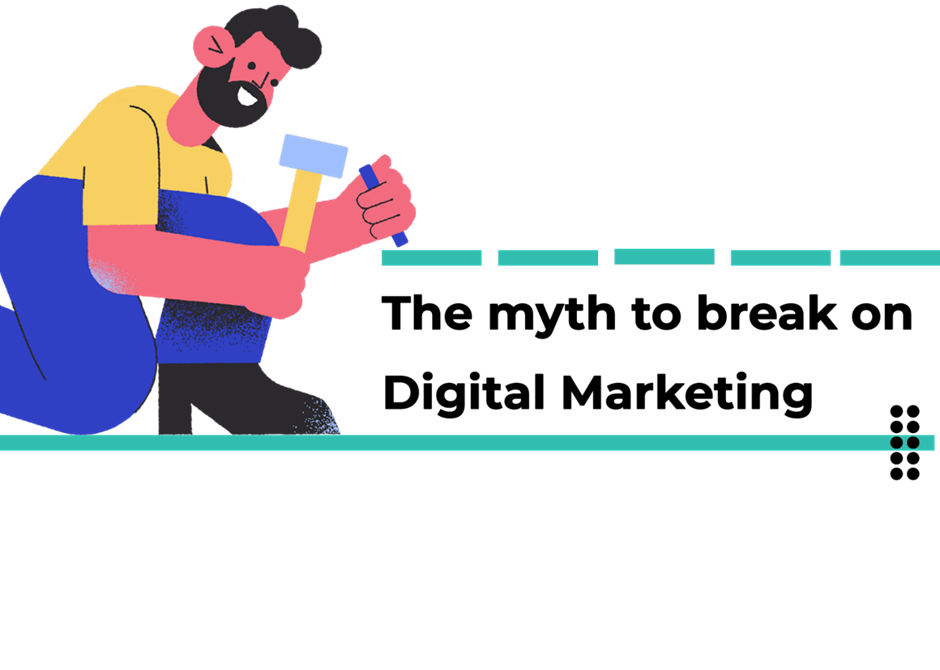 Contrary to popular belief, Digital Marketing is not too complex to learn or to put in practice in your marketing strategy for you or your business. Companies, small and big with their business owners have all enjoyed the fruit they reaped from Digital Marketing. Of course, starting from scratch can be intimidating and you may find yourself lost with how and where to start. However, all you need to do is start.
If you are not convinced about it yet, here are some insights on how Digital Marketing can benefit you and your business.
How to Use Digital Marketing to Get Started as a Small Business Owner
Small businesses increase their local customers through SEO (Search Engine Optimization). A business can upload their working hours, phone number as well as location on google to be able to be seen by those who search for the specific needs and services your business can provide. The search engines recognize its relevance to its search. Thus, businesses can target local customers to make more sales as well as visibility. When a customer is making a search, the small businesses can pop up in the search bar whether on Google or any social media apps. They can get noticed locally as well as internationally.
A small business can do advertising for free or even on a small budget. Nowadays, many small businesses are flourishing on social media such as TikTok and Instagram. These businesses benefit from free advertising on social media. They are increasing their brand awareness and engagement. They can build a local search presence and local marketing tactics. They are able to interact with potential customers directly via links or direct messages on those social media platforms.
Through engagement online, these small businesses are able to acquire feedback directly from their customers. These small businesses can also analyze what their competitors are doing. Using the data they get from what their local competitors are doing, small businesses can make themselves stand out in the market. Customers' purchase patterns can be observed as well as trends in the market. Thus the businesses can move on to the next stage of the product life cycle which is growth. They can use this quantitative and qualitative information to increase sales as well as potential customers. Small businesses can control their costs.
Small businesses can have the 'SEE, THINK, DO and CARE' framework. This helps them to understand the customer's online journey. A web presence is built in order to get noticed locally. The costs can be maintained as low as possible which is a plus for these businesses. Advertising is done at ease and also is free. Brand sensitization takes place to spread the word in the market. This helps the businesses to get sales and grow in larger enterprises.
How can Digital Marketing Help Your Business Grow?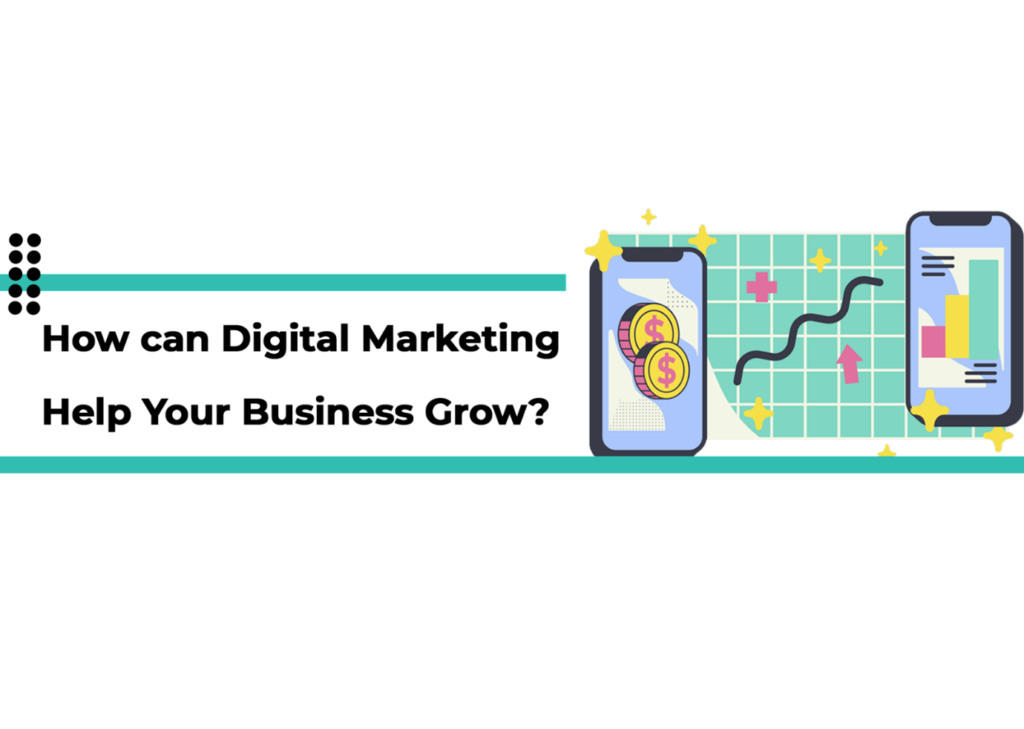 Helps grow your clientele
The primary goal of any business is to achieve marketing goals and objectives and reach out to the target audience. This can be done through the use of digital advertising, or by directly reaching out to potential customers. Many companies are now turning towards digital advertising as it is cheaper than billboards, print ads or TV commercials. Digital advertising allows for businesses to create personalized ads that are relevant to consumers, as well as track the success of their campaigns and build better marketing strategies.
Digital marketing can be very powerful if you know what you're doing. You can target your ads just to the people are most likely to convert, which is really helpful in the early stages of a business.
Keeps you connected with your clients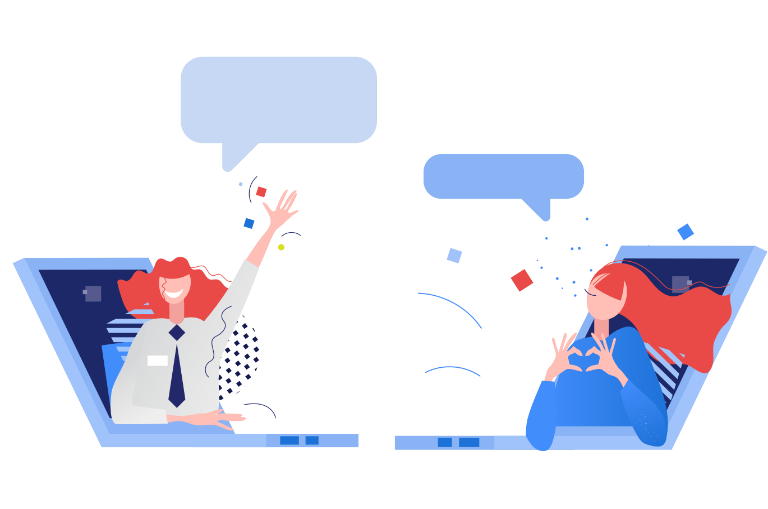 People don't actually skim through piles of phone numbers or flip through pages of every newspaper to search information about a product or service. Today, an astounding 80% of consumers use the Internet to research a wide range of products and services they require. If not, they skim through social media apps instead and eventually land on a business they want to buy from if you have an innovative content marketing strategy.
Generates higher conversion rates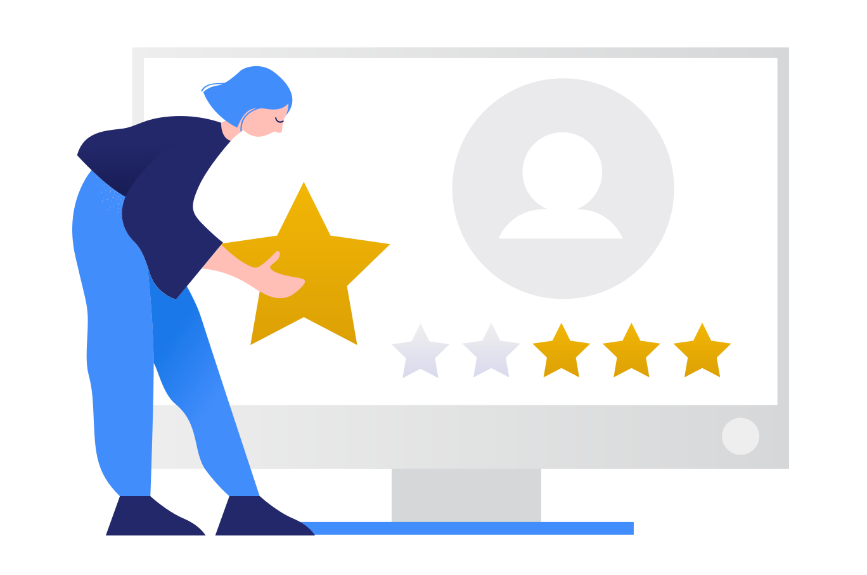 Using digital marketing for your small business will strengthen your conversion rate. The conversion rate is the percentage of website visitors who complete the desired action of visiting your website or other digital platforms.
A pay-per-click strategy, for instance, will facilitate you in achieving the desired objectives that you have put down for your company. It is a technique of charging a fee for each click on your ad. As a result, by increasing your conversion rate, you can expand your small business and increase the number of customers.
Keeps you level with Competitors
The main issue with small businesses is a lack of funds. Often, due to that reason alone, they are unable to keep pace with the growing brands and corporations. Lack of resources also plays a big role in the growth of a company.
But if you use digital marketing techniques wisely, it will help you in this initiative of growing without having to spend too much in vain. Originality plays a major role in this happening. You can easily compete with any type of business, large or small, and capture the audience's attention.
In the digital marketing industry, creativity is also a major factor.
Be Local and Reach Global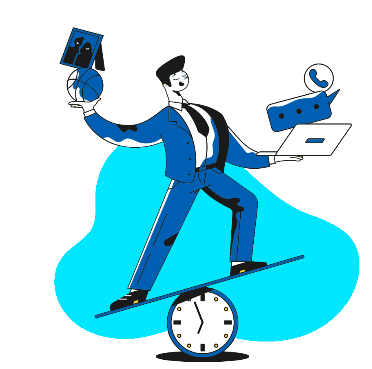 One of the drawbacks of small businesses is that they feel they need to stay local. Yet, digital marketing aims to break down these stereotypical views and geographical boundaries. The reach that digital marketing has is directly permitting you to expand your business and reach a wider audience. And the prospect is that you can do all of this while sitting in your city's office or at home.
We do not even mean reaching everyone on the planet when we say "global audience." It means focusing solely on the prospective target audience rather than the public at large. As a result, you will be able to reach interested customers all over the world.
What are the Best Online Tools for Your Small Business Needs?
It makes sense to invest in technology tools for your small business. Technology can save you time while allowing you to focus on the most important things. Rather than spending time on manual administrative duties like entering data and invoice processing; which let's face it, can take a lot of time, you could use that time to talk to customers and prospects, continue improving your products and services, and interact in other strategic endeavors targeted directly at expanding your business.
You can additionally save money by using technological tools.
A CRM tool for example, can easily spot where you may be unnecessarily spending with a group of customers. This is achieved by sending data back to the business on whether products have been placed too high or too low on customers' wish lists. If you do your bookkeeping, you might see some insights that will help you change your tax payments. A solution that is able to keep your data safe and your service up and running will not only help you avoid costly downtime, but also reduces the risk for customer churn or loss of revenue. Don't wait for something bad to happen before you decide to invest in it.
Also, it is important to note that digital tools help support the new post-pandemic paradigm wherein individuals and businesses would like to control in-person interactions due to the long term health concerns and restrictions. Because tech tools are digital, people can carry much of their usual business activities from any location and on any device. Besides that, most tools are available as apps, which implies you just pay for the functionalities you want and need; users can immediately disable any service if users decide a tool isn't for them.
Let us explore some options in certain tech tool categories that could help you to consider using as a small business wishing to grow.
Project Management Software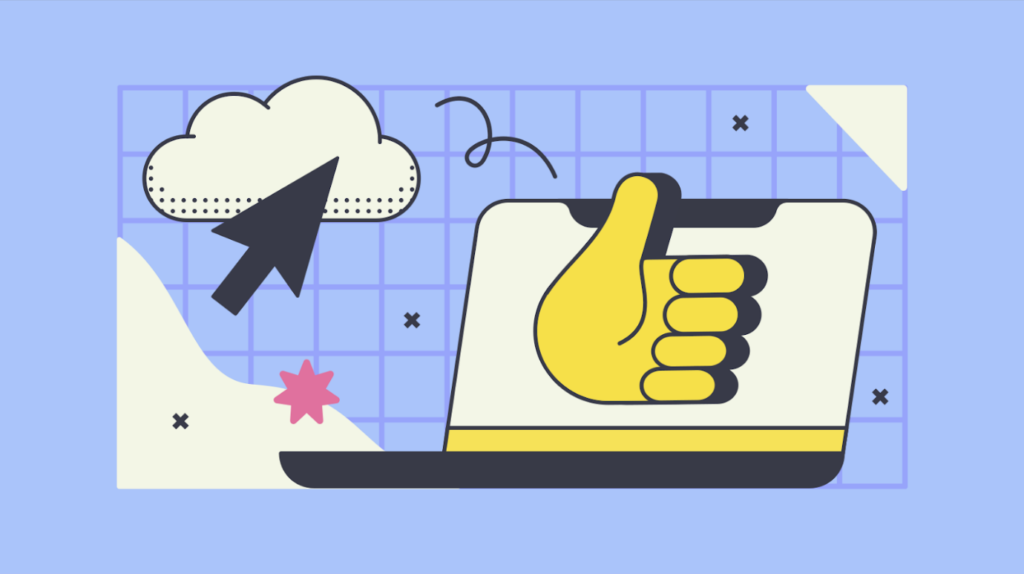 If you are trying to manage tasks, project management software can help. These tools allow you to keep record of your operations, meetings, and deadlines digitally.
These tools can produce alerts for up and coming activities and tasks, which include specifics such as when and where your next conference or task will take place. Further to that, the above tool category can send similar notifications to other members of the team, making sure that everyone is aware of the expectations of them and by when.
Email Marketing Solution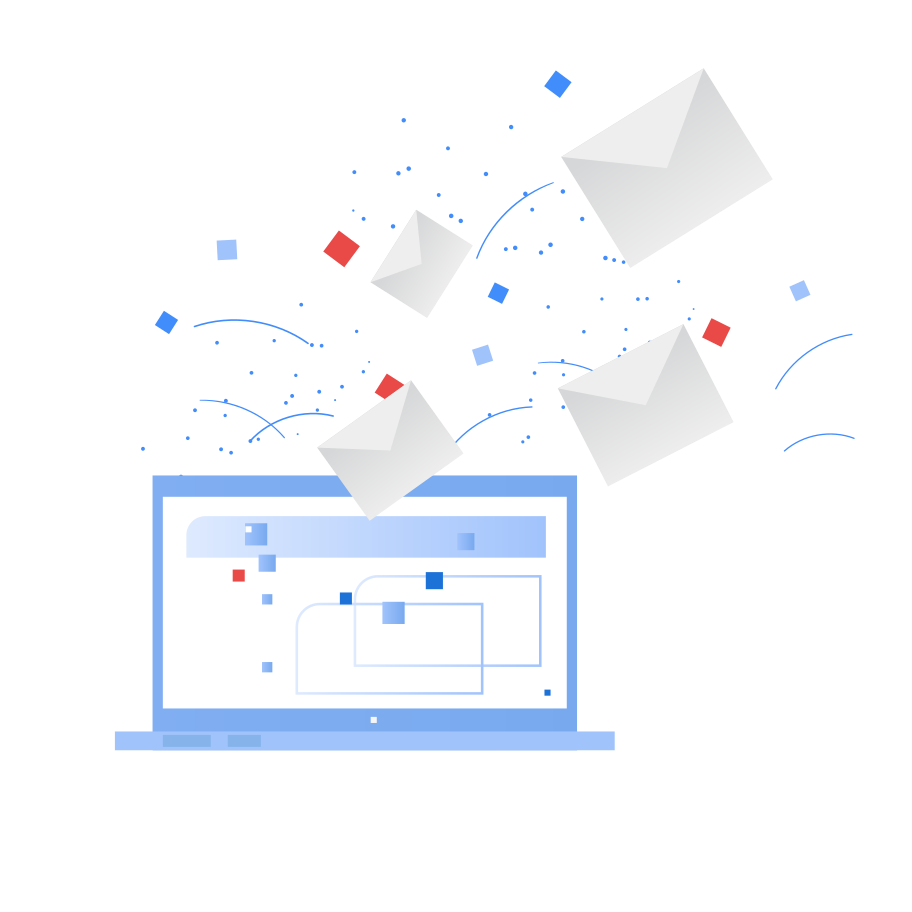 It is fast and easy to keep your subscribers up to date on the latest happenings in your business, and any special offers or promotions you're running, with digital email campaigns systems. Most of these tools also enable you to auto-generate a routine email newsletter to your virtual communities, avoiding any need for you to create them manually. As such, anybody, whether a consumer or a potential consumer, who subscribes to your business can receive a welcome from your brand.
Accounting Software
Much of the work that an accountant or bookkeeper would do can be done by an online accounting software. This involves monitoring your costs and revenues, customer billing, expense accounts, and producing the documentation needed for tax records.
Website Monitoring Software
Your website is the first concrete online presence to your company, and you must have spent money and effort in making it as attractive and user-friendly as possible. Even so, you must recognize how it is used, who is using it and which areas obtain the most (and least) visitors.
The above observations are made available by website monitoring software, allowing you to make the needed changes and improvements.
Conclusion: How much should a small business invest in digital marketing?
It is important to calculate how much you are willing to spend in digital marketing. As we have developed above, the future of investment and profit is leaning towards the field of digital marketing. Ergo, if your business goes online, you are more likely to benefit from it instead of lose. In terms of how much you should fund your prospects in digital marketing, that directly relates with how much you are willing to. If Digital Marketing is the tool by which you believe you can grow your business, then go for it. Digital Marketing as a start-up tactic to grow your business can be less costly than you think.
We hope that reading the blog has benefited your company. Please share your thoughts/questions in the comments section below.