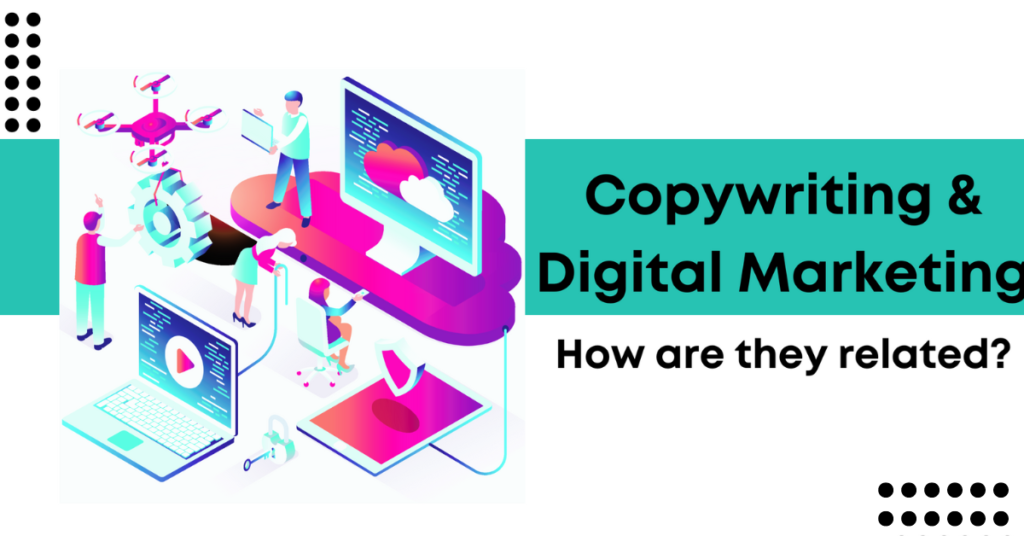 Defining Copywriting
Copywriting
To be a copywriter is to be an online salesperson with the ability to get in the mind of those who read your content. The job behind copywriting can be fun but it still demands a lot. Compared to a salesperson, the product and services are not exactly promoted by face-to-face or door-to-door interaction. For copywriters, their best-selling pitches are typed, advertised, and distributed to the general public or a targeted audience. This essentially makes copywriters oracles who not only have to build up magical and meaningful slogans but also predict the type of reaction they may get from their creation.
Copywriting is a process in itself; from brainstorming headlines, slogans, and punchlines to having trials and errors on how impactful their written persuasion is. A copywriter is not a content writer; while a content writer's job is to write information for the purpose of educating or to entertaining, a copywriter mainly serves to persuade. If you need to understand the distinguished work format of a copywriter, then one of the best local examples we can give you is the ancient slogan of Winners (the Supermarket) with their song and slogan 'Bel Bel Cadi'. Anybody who heard that song or those words would link it to that brand.
The history of Copywriting
Writing existed long before the internet. For that fact alone, copywriting has existed long before marketing converged into the digital realm. We can lose ourselves in the ocean of information made available to us on the net today. Yet, no matter how much history there is about the origins of copywriting, it is safe to admit that Copywriting and Digital Marketing existed without each other once.
Copywriting was used in traditional marketing; through physical flyers, posters, advertisements on billboards, and so on. Copywriting worked in different places; from government institutions, political campaigns, retail shops and etc. There have been different copywriting works that have made their mark on history. Some even have been pinned down as turning points in the history of the world. One of the famous posters during the World War advertising an American chief that was striped in blue and red with the words 'I want you for the U.S army!' is an example of the type of influence a creative copywriter can have. The copywriter who came up with that sentence, alongside the visuals, had hit the bull's eye. With that poster, many young men and women enlisted to serve their country in the war. It had given them the purpose; a sense of belonging and pride to be needed by their country.
The years passed and soon enough, the era of technology emerged. In recent years, the surge of social media platforms took the meaning of digital marketing to a whole new level with more platforms becoming monetized. Yet, copywriting never quite became outdated.
How they came together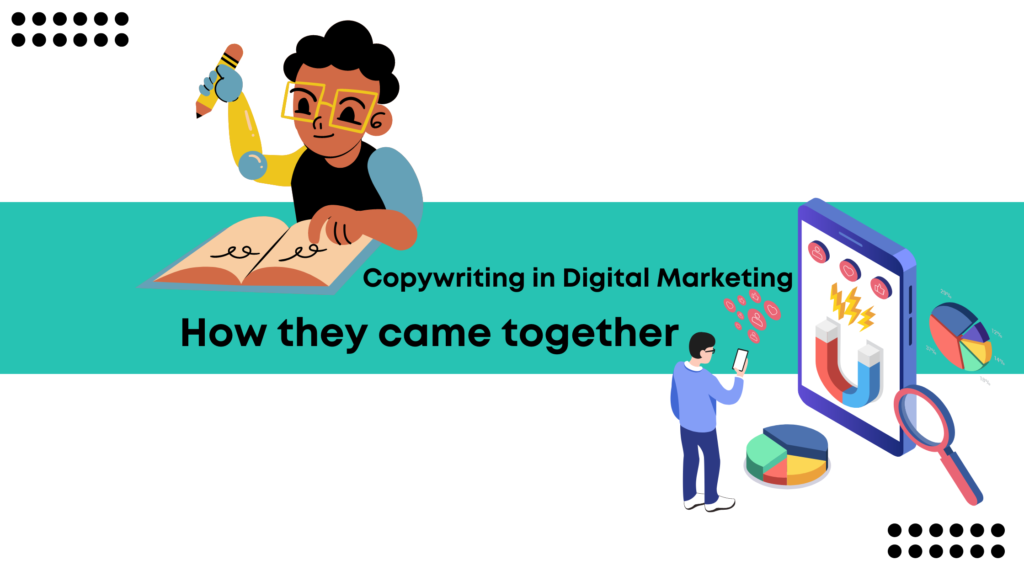 Copywriting in Digital Marketing
Can a true digital marketer work without an ounce of copywriting? Everywhere we look, from billboards to online ads, content for social media platforms to their captions, launching of new infrastructures to mall campaigns; every marketer needs a brain that works out words to persuade the public to give their attention to the content or event they are marketing. The attention of consumers is the bread and butter of copywriters.
The biggest myth, however, is that copywriting is only for persuasion. The breadth of reach that copywriting can attain when done efficiently can break the definition we have written above or any definition written before. Copywriting is not simply creating words or content that grabs the attention of people but it can also heavily impact the way people recognize your brand. Copywriting can fill someone's sense of purpose towards a cause. It can enforce a generation to vote for change. Copywriting does not hold any side in history; there is no such thing as immoral in this field. Yet, copywriting is much more than convincing people to believe in what they read or like what is being said.
In a sense, copywriters are the builders of the identity behind which they are appointed to work for.
The world is not simple, however. Copywriters have to find the balance between persuading their target audience and working in a manner whereby they can showcase amazing storytelling abilities. This demands more creativity than qualifications on certain days. Anybody can write anything but copywriters have to find the right words at the right time for a specific type of audience.
Copywriters: are they worth the money?
Any business owner or entrepreneur is right on their money to think about what they want to invest in based on if it will be profitable for them. As the finalist of Wimbledon, Australian Tennis player, Nick Kyrgios, recently said 'any publicity is good publicity.' Yet, investors, business owners, and small business entrepreneurs have to wager if adding a copywriter to their team marketing is the right call or not.
The answer to that question depends on your business and its needs. Generally speaking, copywriters are worth the investment if you want to improve your website's SEO, create compelling content, or generate leads. However, if you're not sure what you need a copywriter for, or if you're on a tight budget, it may be best to hold off until you can afford one.
The Impact of Copywriting
Good copy can make or break a campaign, and it's crucial to create content that's both engaging and relevant to your audience. Copywriting is a powerful tool that can help you achieve your marketing goals by driving traffic to your website, increasing engagement with your brand, and generating leads and sales.
The future of Digital Marketing
Well, as technology advances and more and more people move online, digital marketing is only going to become more important. In fact, we personally think it is safe to say that it is the future of marketing.
Copywriting is a key part of digital marketing, and it is something that you need to be good at if you want to be successful in this field. Effective copywriting can attract attention, persuade people to take action, and generate leads and sales.
So if you are interested in a career in digital marketing, make sure you learn how to write effective copy. It will be a valuable skill to have!
Can Copywriting form part of this future?
Copywriting is the art of writing effective and persuasive copy for the web. It is all about creating content that gets people to take notice and drives them to act. whether you are writing website copy, email marketing content, social media posts, or anything else, good copywriting is essential for success. To wonder if copywriting will impact the field of digital marketing is to reach the conclusion that good copywriting can change the game for digital marketers.
Copywriting is and will continue to be one of the most important skills for any digital marketer. After all, the nature of the job is to create content that draws attention to your products and encourages customers to take action. But good copywriting is not just about cramming as many keywords as possible into your blog post or website. It is about creating content that's engaging, persuasive, and ultimately helpful to your audience. It means to give meaning and a sense of purpose.
Digital marketing is all about getting that content in front of the right people. It is about using the latest online tools and techniques to reach your target audience and influence their behavior. So if you want to be a successful digital marketer, you need to learn how to write great copy. And if you want to write great copy, you need to know how digital marketing works. Digital Marketing and Copywriting walks hand in hand.
Different, Diverse but Driven
Copywriting and digital marketing are two of the most important aspects of any successful marketing campaign. Copywriting is the process where we use writing in an effective and persuasive copy, while digital marketing is the process of marketing a product or service online. While the two are related, they are not the same thing. They both have different purposes. However, the two can work together to create a successful marketing campaign.
Digital marketing can be used to promote your content while copywriting can be used to create effective and persuasive content. When used together, they can help you create a successful marketing campaign that will reach more people and generate more leads.