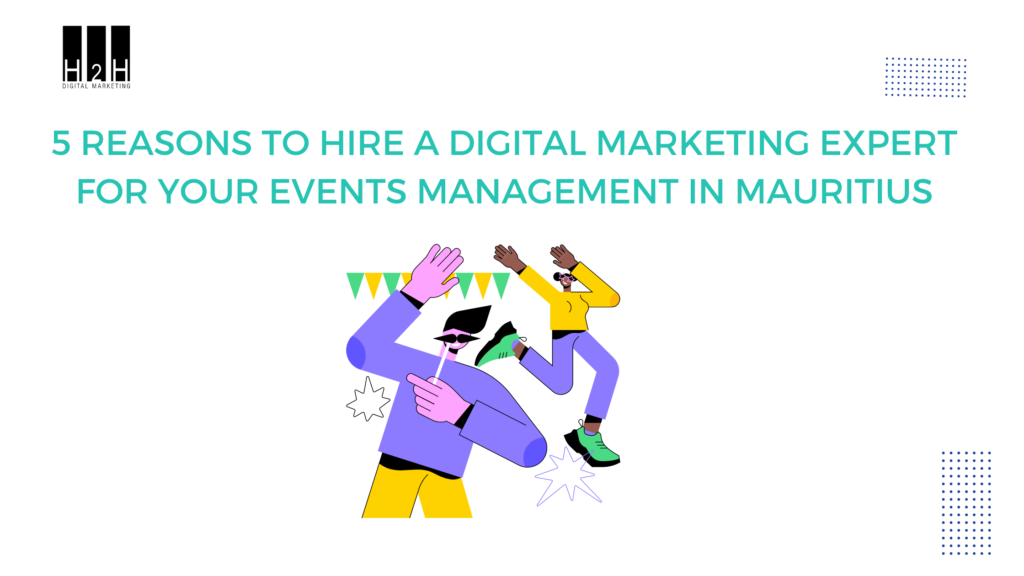 Introduction: Why Use a Digital Marketing Expert for Your Events Management in Mauritius?
Being a relatively small island in the Indian Ocean with a population of less than 2 million people, Mauritius' economy majorly depends on tourism, agriculture, export and financial services. Tourism receipts have been amounting to over 2 billion dollars these last few years, with numbers in the likes of 1.5 million tourists arriving annually. The Covid 19 pandemic and its consequential month-long lockdowns and travel restrictions hit the tourism industry hard; according to Statistics Mauritius only 2772 tourists arrived on our Island in the first quarter of 2021. While this number has increased to 158,818 in the first quarter of 2022, these numbers still do not live up to Mauritian potential. The tourism industry needs a boost to recover from the Covid 19 pandemic. The risk of assuming that tourists will just start coming like before cannot be taken; a lot has changed in these two years and the country needs to market its image on the international stage to attract more people and get the economy back on track. There are several ways to do that and one of them is events. No one is going to choose a lifeless city to have a vacation in; it's always the places that are organising attractions and concerts that have the most visitors. Some people will travel to a destination just to attend a specific event; that happens a lot with famous celebrities' concerts.
However, there is no use for events if people don't attend and they won't attend if they don't know at all that the event is happening. How will they find out then? Well, the answer is simple: marketing. Traditionally, marketing is done by renting a billboard, distributing pamphlets or with posters in public spaces. But since Mauritius is a small island, the bulk of its tourists come from foreign countries and yeah, you can mail posters and rent billboards in the target countries but that's going to be very expensive and take a lot of time. The solution to this problem is digital marketing, that is promotion via the internet.
While digital marketing is easier and less expensive than traditional marketing, it can get quite complicated – even backfire – if not done properly. All preparations before and during an event, making sure the event runs smoothly can be quite stressful and so, the best bet to make sure the event promotion is being done properly, thus reaching an audience and they are encouraged to attend is to hand over the marketing to a digital marketing expert. They will get the job done efficiently and with expertise, maximising the chances of any event being successful.
It's not just the tourist though. The local population also needs to know what event is happening, their already being in the country will be incentive enough. The island is so small that you can drive almost anywhere within the hour, two at most. Distance is not a barrier; an event can be brought to potential attendees' attention even in hours before it starts. If an event is marketed enough, it can get any Mauritian to attend. This possibility of any Mauritian finding an event on their Facebook feed while looking for something to do on a Friday night and deciding on the spot that they will attend or finding a concert poster on Instagram and buying tickets online at the last minute gives a great scope to digital marketing in Mauritius.
Reaching an audience is important and doing that via the internet is easy, but while encouraging attendance and building a reputation in the industry remains the priority for event management, events marketing is also important in a country that does not recognise the industry. It is easy to assume that event management is only equipment (sound system, cutlery, decoration, etc) renting and while that is indeed a part of event management, there is also much more than that to the behind-the-scenes of organising an event to client satisfaction, from all the planning before the event to handle an issue that may crop up during and everything in between. It is also important – for the sake of getting more events and more clients hence more income, if not anything else – for people outside the industry to get over the stereotype that the only events that require event management are the big ones like concerts. Event management can include but is not limited to weddings, corporate events, parties, conferences, festivals, expos, and ceremonies. Basically, any event. And the best way to get the message of event management diversity and difficulty across to the right audience is to let digital marketing experts handle the job. Let's take a look at the reasons why.
5 Reasons to Hire a Digital Marketing Expert for Your Events Management
So, you work in the event management industry and your business – or the one you work for – needs a boost to reach more clients. You have been told that hiring a digital marketing expert to take over the promotion of your services is the best option, that events and digital marketing work hand in hand, but you're sceptical. Is it worth it? Can you afford it? Wouldn't you be able to do a better job yourself? Let's answer these questions and any other you might through these five reasons why you should hire a digital marketing expert for your events management.
First and foremost, event management is hectic. As an event manager, you will be taking care of every aspect of an event: invitation, catering, decoration, entertainment and all the planning and execution before, during and after the event. That is already a lot on one's hands and on top of that events are unpredictable; there is sure to be some problem or the other – no two days are the same so no two problems are the same – and you will need to work fast to solve it to the client's satisfaction. That can happen at any point during the event and so, you and your team will most likely be all hands-on deck. But no matter how much you delegate or how big your team is, in the end the responsibility is yours and you are answerable to the client, so you need to personally make sure everything is on track. In focusing on the smooth organisation and running of the event, you might miss out on marketing the event. When the event you took responsibility for is not going well and you're running left and right to make things happen, posting on social media or updating a website, even if you already have expertise on the matter, is not at the forefront of your mind. It won't seem like a priority, but a lack of marketing will defeat the whole point. Unless the event is a private one such as a birthday party or wedding, you will need to maximize attendance to make the event successful and digital marketing remains the best way to do that. Get your event to your guests before getting your guests to the event! And leave the job to the experts, so that you can do your job in peace, and they can do theirs, in the best interests of the event you're organising.
As for private events and those that require tickets for entry or registration beforehand such as concerts or conferences, a digital marketing expert will expertly handle invitations, ticketing or registration. In this age of technology, tight budgets and environmental consciousness, nobody wants to get a bunch of invitation cards printed; they are expensive, will take time you reach the invitee (whether you are mailing or personally delivering), might get lost in the mail and will most certainly end in the trash after the event! The alternative? Digital invites! Seeing invitation cards in digital format is a trend that has only been gaining popularity these last few years and it would be in everyone's – you, your client, the event, the invitee – to digitally design a card to send via email or text messages. It reduces the likelihood of error too and even if there is a mistake, you can just get it corrected on the spot; no need to throw it all out and get it reprinted! Same when personalising cards; if you misspell a name on a digital card, you just backspace and rewrite instead of having to waste a card to start on a new one.
For a digital card, you will need a graphic designer (or at least someone very well versed with graphic design and editing software such as Canva) to design something unique and aesthetical. You cannot take a risk of sending a badly designed invitation card: your reputation is on the line here. Now as an event manager you might not have a graphic designer on hand. The best bet is to hire a digital marketing company – if you didn't already have one – and get the experienced graphic designer they are sure to have to design you an invite card. The digital marketing expert can also train you and your staff to manipulate the card for personalisation and sending. The digital marketing expert handling your social channels can take registrations for a conference online, compile a list and hand over to the event management to record attendance or can list your event on ticketing portals such as Ticketmaster or hand the task over to the staff from your side that they trained for it since manoeuvring a ticketing platform is not a skill just everyone will have.
When you – or the digital marketing experts on your behalf – are conducting a digital marketing campaign, you need to monitor its Key Performance Indicators (KPIs) to measure its success and to what degree goals were achieved, or the lack of it to decide on any alternative paths ahead. When it comes to marketing using the internet, the KPIs include but are not limited to website traffic, bounce rate, cost per conversion, average time on page, click-through rate, keywords, engagement rate and mentions. All this flying over your head? Don't worry, that's normal. This is jargon for digital marketing experts, and you should leave it to them! As an event manager focusing on the chaotic task of making sure all goes well at all events you organise, you aren't supposed to worry about these KPIs marketers keep talking about, much less being able to analyse them. So, give it over to them, they will monitor and analyse it appropriately, so that the path ahead can be decided. This is of course important because engagement on the posts promoting the event and the traffic on the website updating on the event will directly affect attendance. If you don't impact an audience online, they won't know about your event and won't attend. This becomes especially important when it's about annual events; what went right and wrong one-year marketing-wise will be the basis of the digital marketing strategy for the following year. The impact of marketing for one year's event will be compiled and scrutinised thoroughly by the digital marketing experts so that they can come up with a digital marketing strategy that will create more engagement and thus increase the likelihood of growth in attendance.
The covid 19 pandemic changed a lot and turned all our lives around. We do not look at masks or social gatherings in the same way, we have learnt the importance of being able to meet our loved ones, of protecting ourselves, and of how valuable the internet truly is. There is a lot of criticism around the topic of the internet, such as the internet being responsible for children's bad grades, for adults' anti-social tendencies, for being unsafe and while all that aren't necessarily lies, the pandemic has allowed us to further understand just how much of a blessing the tool can be. The internet allowed governments to track covid cases, circulate guidelines on Covid precautions, and allowed families who were apart to communicate, talk show hosts to continue to conduct their shows from home and brands to continue promoting themselves. Zoom interviews with celebrities and online events became very popular, even bleeding into the post-Covid era. The advantages of hiring a digital marketing expert for an online event are obvious here; let the technology experts deal with the technology! Handling the platform to be used, sharing the links, filming, live broadcast, monitoring comments, and solving any technical issue during the broadcast; you will need an entire IT team for it and an event management company is unlikely to have a big enough or experienced enough team to handle the technicalities of an event. Nothing is allowed to go wrong because at the slightest problem, the smallest lag, you will start losing the audience. So, hire a digital marketing agency and let their full-fledged and experienced IT team handle the technological aspect while you make sure the event itself is happening smoothly.
No matter how complicated, stressful, and hectic being in the event management industry can be, in the end an event management company remains a business that needs clients and cash flow to stay afloat. As we have already established, to bag clients you need marketing and the best, most efficient and cost-effective type of marketing is digital marketing. Since the tactics can be quite tricky when it comes to technology, it's best to hire a digital marketing expert and let them do what they are best at. It's simple; a business needs clients and digital marketing takes the business to the potential ones. There is the added angle of event promotion when it's about event management services. If you are just starting out in the industry and you are a small business, digital marketing done right will be crucial because you will need your event promotion to reach an audience for them to attend and make your event a success.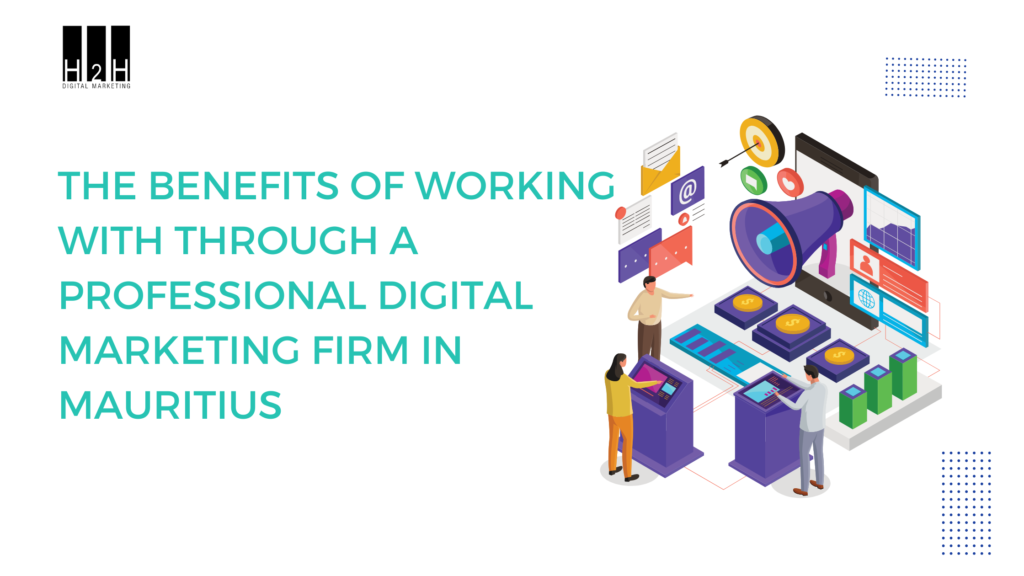 The Benefits of Working with Through a Professional Digital Marketing Firm in Mauritius
When talking about benefits in any business, the first thing that comes to mind (as it should, if the business is going to run smoothly) is money of course. Mauritius is still a country where traditional forms of marketing still run rampant; advertising on billboards and posters among others. You will find them on the side of highways, on bus stops and metro stations, at the airport. But the problem is that on top of being expensive, renting a billboard is like shooting an arrow in the dark; you have no way to know if it will hit the target, you can just hope clients will notice and act. To stand apart from your competition, you should invest in digital marketing. Because digital marketing firms will take a fee for their services, you have a fixed cost that is relatively cheaper. You will get to monitor and analyse KPIs so you can study your reach and modify accordingly to work towards achieving set goals. No arrows or darkness over here! So, to save money, be effective with your marketing strategy and stay a step ahead of your competition, digital marketing is the way to go for an event agency in Mauritius.
You agree to give digital marketing a try, it seems like a good idea. But hiring a professional to do it? Seems excessive, you think you can do it internally. Well yeah, you can but even if you are already a digital marketing expert and you miraculously find the time to conduct digital marketing campaigns when you are handling the chaotic but satisfying rush that is event management, you will not have the resources a professional digital marketing firm does.
The tools, to start with. Digital marketing will require a lot of aesthetic and high-quality graphics which, in turn, requires editing software. And while a lot of them are free, you will need to buy its premium version to get all the features and tools. Canva, for example, is free to use but you can upgrade to Canva Pro to unlock all of its features. If you don't regularly do graphics, you might not be able to justify the cost whereas a digital marketing agency, with the amount of graphics they must do, will certainly have justified access to the software. And Canvas is just an example; this applies to every image, sound and video software that might be needed. 
By being so close to your work, you sometimes unintentionally put yourself in a box. It then becomes difficult to come up with new ideas for the business and the promotion of its events. A digital marketing firm's experienced creative team who keeps up with the latest marketing trends won't have that problem; they will be able to provide a fresh perspective and new ideas that will make an impression with potential clients and attendees for your business and events. 
When we have already taken up the topic of staff, it is important to say that a professional digital marketing firm will have a full-fledged team for everything; web design, SEO, photography, content creation, social media management, graphics, copywriting among others. If they don't have a full-time employee for any task, they will be outsourcing from another company. But the point is, a digital marketing firm will have all the skills you need under one roof, for a fixed fee. You won't need these skills enough to justify employing a whole team yourself and it's already been established that event management is way too hectic for even thinking about training your staff to do these things; it is time-consuming and is likely to cause burnout. Neither of which do you want for the sake of the company 
When you are into event management and a digital marketing firm is working with you, you have the best chances of organising successful events and providing clients satisfaction.
Conclusion: When it comes to events management and digital marketing in Mauritius, you want the best. Find it.
Mauritius has a booming economy, with plenty of potentials. Even more so for the relatively small event management industry as the population makes more and more progress, gets more modern and wants the best for everything, even their events and marketing. Something that often used to be too expensive or too impersonal, people always wanting to do it themselves. But not anymore; now everyone wants a professional and polished job done. 
So whether you are an event manager looking for a professional digital marketing firm to promote your company and your event or you need a professional to organise an event for you – corporate or personal –, you just need to pick up your phone and search for it. Browse, find the one that suits you best and get started on an adventure to improve everyone's – including your own – experiences!